The new academic year is still young, but the Gothic Reading Group is well underway. Our first meeting two weeks ago was a big success, with lots of new and old faces, including students and staff. This Wednesday we meet again for our first text: Jean Rhys's 1966 novel Wide Sargasso Sea. Famous as a re-imagining of the Jane Eyre story, this text invites us to reconsider the convergence of a set of motifs that have become a classic of Victorian Gothic and of post-colonial criticism. This means that our perennial inquiry 'is it Gothic?' can be accompanied by some more nuanced questions: What is it about the Gothic that lends itself to this kind of re-imagining? And how important is the cultural vocabulary of Gothic to a text that sets out to challenge an earlier figuring of 'monstrosity'?
It's also a good read. Here to introduce the text and the session on it is GRG organiser, Carly Stevenson.
Rhys' novel, as a prequel to
Jane Eyre
and as a postcolonial narrative, gives a voice to the repressed, liminal figure
of Antoinette Mason – the 'Madwoman in the Attic' of
Brontë
's novel. Rhys gives Antoinette a history so that we may reassess her supposed 'madness' in light of a wider social and personal context: we learn of her early poverty, her mother's dwindling mental state and the apparent cruelty of her native neighbours. We learn too that her identity
perpetually isolates her from communities. A Creole heiress brought up
in
post-abolition
Jamaica, Antoinette is cast out of Coulibri society
from the start. Crucially, the first two sentences of the novel confirm her status as an outsider: 'They say when trouble comes close ranks, and so the white people did. But we were not in their ranks.'
Belonging neither to the white Europeans nor the black Jamaicans, the Cosway family are stripped of their cultural identities and driven into exile, then eventually,
driven out of their home. The tragic fire that forces the Cosways (now Masons) from their settlement eerily foreshadows the burning down of Thornfield in
Jane Eyre
and Rhys gives Antoinette's
story
a cyclical quality that resonates with the theme of 'inherited' madness.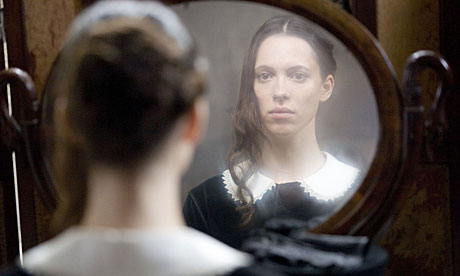 Rebecca Hall as Antoinette in the 2006 BBC adaptation
Making con

nections:

Jane Eyre

,

Wide Sargasso Sea

and

Rebecca
As some of you might already know,
Rebecca
is often described as an adaptation/reimagining of
Jane Eyre.
Thinking back to our last meeting, it is evident that
Rebecca
and
Wide Sargasso Sea
explore similar themes and motifs, not least of all the relationship between names and identities. In WSS,
Antoinette is repeatedly defined by men: her name is changed multiple times in
correspondence with
her mother's relationship status and her own marriage to the unnamed Englishmen, who the reader assumes is
the young
Rochester.
Likewise, in
Rebecca,
the two Mrs
DeWinters
are repeatedly referred to in relation to their husband. However,
Rebecca
arguably takes this idea of namelessness/lack of autonomous identity a step further by deliberately
not assigning the narrator a name at all
.
She is simply the 'second Mrs
DeWinter
'.
Our next meeting will focus primarily on
Wide Sargasso Sea
and Rhys' exquisite adoption of Gothic conventions, techniques and imagery to convey the complexity of mental illness. In preparation, here are a few questions that you might want to consider as you read the novel:
Wide Sargasso Sea

is often described as a 'Postmodern novel'. How far do you agree?

How does Rhys use ideas of wilderness/nature reclaiming the domestic space to enhance the Gothic atmosphere?

To what extent is

Wide Sargasso Sea

a feminist reimagining of

Jane Eyre

?
With
all of
this in mind, we'll be thinking about the role of the narrator, the question of identity and the value of reimagining/adapting Gothic texts in our next session TOMORROW
in room A87, Richard Roberts Building from 4pm
.
As always, there will be cake, and Halloween-themed festivity. We look forward to seeing you there!
Recommended Further Reading:
Gilbert, Sandra M;
Gubar
, Susan,
The Madwoman in the Attic: The Woman Writer and the Nineteenth-Century Literary Imagination
(
London:
Yale University Press, 2000)
2
nd
edition
Carly Stevenson is a second year PhD student researching Gothic and Romantic conceptualisations of death. The lyrics to 'Cemetery Gates' by The Smiths pretty much sums up her work and interests.